The Gardensmith Landscape Design is honored to have one of our clients Lake Oswego gardens on this years ANLD Designers Garden Tour. Saturday June 20th, 10am to 4pm. The tour is an opportunity to see eight private gardens designed by ANLD members.
We have been working on this Lake Oswego garden since early 2012, The design process started right after our client purchased the house. We had worked together on her previous garden, so she knew the importance of getting a designer's eye on the project as early as possible.
The Master Plan we created met our clients goals of :
Plan for ageing in place, allowing her to continue gardening for many years.
Re-use existing materials when ever possible, including transplanting plants.
Allow for good sun access for solar panels.
Create a safe, dog friendly yard for an active Greyhound
Include a large, accessible vegetable garden.
Please join us on the tour and see ways that we can help you to achieve the perfect garden for your lifestyle. Tickets can be purchased on line at: http://www.anld.com/garden-tour
---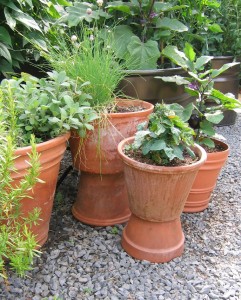 The Gardensmith works with clients who see their outdoor spaces as an extension of their homes, who enjoy spending time entertaining, playing, and relaxing in their gardens.
We help our clients to be successful in their gardening endeavors.
Our design office is based in Milwaukie, Oregon, and we help clients throughout the Portland metro area.
Past projects include:
Re-working existing landscapes for new homeowners
Courtyard entry gardens
Curb-appeal focused updates
Attractive vegetable gardens
Mentoring and teaching for the new or DIY gardener
Planning patios, walkways, and gates