Sarah M. Smith is The Gardensmith's owner and principal designer. She works along with other landscape professionals and homeowners to create pleasing and functional landscapes. Sarah has been designing gardens and working with homeowners for over 15 years in the Portland area.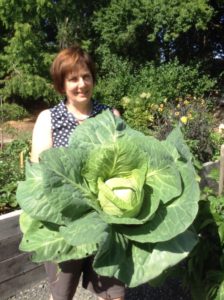 Sarah's interests include:
gardens of most all styles, including woodlands, urban gardens and courtyards, entertaining patio areas, front yard worthy vegetable gardens, and pet & family friendly gardens

edible gardens - including herbs, vegetables and berries

cooking and preserving (Sarah grows an abundance of her families food in her own gardens)

low impact gardening techniques including organic and natural methods and supporting beneficial insects
Sarah volunteers several hours each month working on community gardening and wildlife habitat projects. She is very active in The Association of Northwest Landscape Designers (ANLD), currently serving as their webmaster.